My Brief Resume:
Riwayat Singkat Homepager:
Nama/Name: Drs. JP. Tamtomo, B.Sc., M.Eng.
Lahir di/Born in : Prabumulih, Sumatera Selatan
Asal/Origin : Menurut riwayat kertas berlogo di bawah ini, kami berasal dari Surakarta Hadiningrat dan dibesarkan di Purworejo <According to the family-tree in symbolled paper below, I'm originated from Surakarta Hadiningrat grown-up in Purworejo>.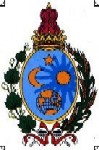 Riwayat Pekerjaan:
Job Journeys:

1978-1990 :> Direktorat Agraria Propinsi Kalimantan Timur
Samarinda
1990-1996 :> Kantor Wilayah Badan Pertanahan Nasional
Propinsi Jawa Timur - Surabaya
1996-2001 :> Kantor Pertanahan Kabupaten Pasuruan
2001- today:> BPN Pusat - Jakarta


Singgahan Kampus Terakhir:
The Last Campus Attended:

Department of Geodetic and Geomatic Engineering (formerly: Surveying Engineering) the University of New Brunswick, CANADA
Doctoral Program: Coastal & Marine Resources Management Bogor University of Agriculture
Our Dedication:
This site is dedicated to:
* my GOD Who creates this amazing world
* my family and mom (kids in the picture)
* my employers
* you, my visitors
* my favorite great composers: Chopin, Schumann, Mozart, Dvorak, Pachelbel, Albinoni, Beethoven, Liszt, Rachmaninoff, Schubert, Sibelius, Bach, Vivaldi, etc.




Homepage's goalkeeper:
Penjaga gawang homepage:
This picture was taken sometime ago someplace in Montreal, Canada, here I'm the homepage's goalkeeper.
Foto ini diambil beberapa waktu yang lalu di suatu tempat di Montreal, Kanada, perkenalkan saya penjaga gawang homepage ini.
Background:
Latarbelakang:
The legal assumption that says everycitizen should and or is deemed to know every legislated regulation does not neccesarily true. Based on the ground facts found, most people are surprisingly innocence to the land matters. On the other hand, the number of land regulations increases from time to time on a daily basis. It varies from acts, goverment regulations, ministry regulations, ministry decision, to the other legal letters. The land affairs that have actually legal and technical dimensions lead to the social, political, and security problems. Those are only some reasons why we build this site to encourage audiences to get appropriately informed to the land affairs.

Kewajiban yang ditentukan oleh undang-undang bahwa setiap orang dianggap mengetahui setiap peraturan yang telah diundangkan dalam kenyataannya tidak selalu benar serta tidak 'fair'. Fakta di lapangan menunjukkan bahwa kebanyakan masyarakat pemilik tanah tidak mengetahui tentang adanya peraturan tersebut. Di lain pihak peraturan pertanahan yang dikeluarkan meningkat jumlahnya dari hari ke hari. Mulai dari undang-undang, peraturan pemerintah, peraturan menteri, keputusan menteri, hingga kepada surat-surat edaran. Dimensi pertanahan sebenarnya mempunyai bobot hukum atau yuridis dan teknis, namun sering kita jumpai berkembang menjadi masalah sosial, politik, dan keamanan. Latar belakang ini hanyalah beberapa alasan mengapa kami membangun situs ini, yaitu untuk berbagi informasi di bidang pertanahan.